The Loofah is an all year-round climbing plant with beautiful yellow flowers. Its fruits are cylindrical and during ripening the interior is transformed into a dense network of fibres somewhat like a mesh. It is the only plant known that can be raised and used as a sponge.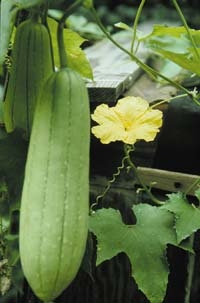 Loofah products are very versatile in that they can be used for bathing and household use. A distant cousin of the cucumber, the Loofah is harvested in late spring and has a preference for the warmer climate.
When cultivated mid-season the young Loofah is thick and fibrous which is attributable to it being instantly soft and resilient.
Qetesh International distributes Egyptian Loofah (Luffa Aegyptiaca)
The popularity of the Loofah for personal hygiene use has established itself as a favoured natural alternative to the synthetic/artificial sponges in the market today. This is due to the gentle exfoliating effect the fibres have which in turn deep cleanses and conditions your skin naturally.
Loofah products are 100% natural, biodegradable and is a totally renewable resource.